Do you feel that your old habits, beliefs, and thinking patterns prevent you from being happy? You're in the right place! Start cultivating happiness by discovering the confirmed ways to make yourself happy! 
Do you believe that we are responsible for our happiness? This matter is an increasingly popular philosophy that can also be very beneficial because it motivates us to be proactive and alter our way of thinking. This way, we can actively search for opportunities to improve our lives and be fully aware of the relation between our thoughts and our reality. With this in mind, you can pursue happiness yourself and even discover your unique ways to make yourself happy.
Happiness is the ultimate positive vibe you radiate. When you're genuinely happy, you are content with your life aspects, and you feel fulfillment and joy.
Happiness is when what you think, what you say, and what you do are in harmony.
– Mahatma Gandhi
What are Confirmed Ways To Make Yourself Happy?
It's easy to say:" I want to be happy!" But many people struggle to get a happy life. It is not as easy to implement as it seems.
Although happiness seems simple to achieve, insecurity, anxiety, doubts, and fears are still omnipresent.
We want to lead a genuinely happy life, but we have a vague idea of it. Or, we are likely to believe that happiness is an elusive concept and that it can be defined as the complete absence of any problem. In fact, happiness is not in the lack of issues at all. Sometimes we set too high expectations and make ourselves anxious without any real reason.
I think I defined the root of the problem! When something seems simple, we do not put enough attention to it, and therefore, we believe that we only need to be determined about incorporating positivity in our daily life, and that's it! But no!
I believe many continuous prejudices cause us to consider things from the wrong point of view.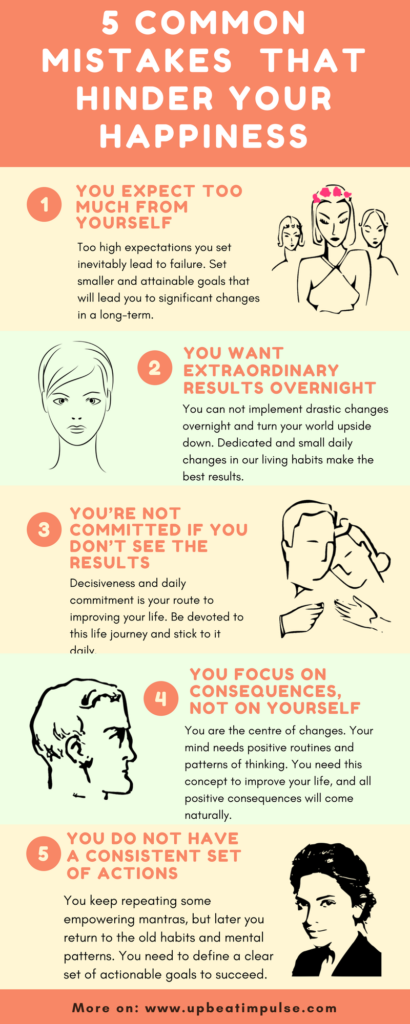 Achieving Happiness – A mental preparation
Firstly, we need to answer some questions.
Does apply positivity to our life means immediate life improvement?
Does it mean to adjust our brain to think differently quickly?
Is it a total abortion of our current way of thinking?
Does it mean that we're becoming another person?
Is it to let go of all of our habits immediately?
False happiness – the destructive power of old mental patterns
These questions are a perfect depiction of the destructive power of "all or nothing" approach. It means: "If I can't-do this, then I can't-do anything!" In other words, if I can't change my thoughts immediately, and if I can't notice any improvements in my life, that means I'm not successful in applying this concept.
Do you see the destructive power of thoughts like this? What if you strive for perfection? Of course, you are ruining your happiness that way. Luckily, we put some effort in research and came up with some constructive and confirmed ways to make yourself happy!
What irritates us the most is that the negative mental patterns are extremely persistent, long-lasting, and hard to distinguish. It might even seem impossible to get rid of it. If they're deeply rooted, the removal might be tough. However, if you are persistent enough, nothing is impossible.
The biggest problem with our negative mental patterns is that they might be hidden and buried in our subconsciousness. We sometimes make our most painful mistakes with our honest and positive intentions. Also, too big expectations are often the common problem that leads to our dissatisfaction in the long-term.
Chasing Happiness – 5 Common Mistakes
I came up with some shared and damaging mistakes in pursuing happiness.
You expect too much from yourself.
Too high expectations you set inevitably lead to failure. They create frustration and make you think you're not good enough if you're failing. You're not failing, remember that! You only need to set smaller and attainable goals that will lead you to significant changes in the long-term. Remove all those thinking patterns that make you feel like a loser because you're not. You have a desire to improve your life, and that is great! You're an insightful and decisive human being. Think in that manner.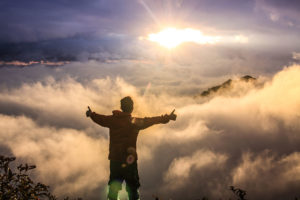 You want extraordinary results overnight.
We live in a world of dynamic changes that sometimes come out of nowhere and happen overnight. Quick and massive changes are often the results of a sequence of tiny improvements. They can also show up as a consequence of some original ideas. But that's not the way how we function. We are not innovation or an idea. You can not implement drastic changes overnight and turn your world upside down. Dedicated and small daily changes in our living habits make the best results.
You're not committed if you don't see the results.
Yes, I know you do this for some visible and measurable results, but they do not show up instantly. A sudden success often fades away quickly too. Decisiveness and daily commitment is your route to improving your life. Be devoted to this life journey and stick to it daily. Remember that you're working on something amazing that will bring positive changes in your life. Treat it that way. You deserve it. Go ahead. You have to approach positive changes positively!
You focus on consequences, not on yourself.
Do you want a better job or a better mood throughout the day? That's understandable. But you need to remember that you are the center of changes. Your body needs an active approach. Your mind needs positive routines and patterns of thinking. You need this concept to improve your life, and those sporadic effects like a better job just occur consequently. Pursuing your goals is important, but what you learn along the way of chasing your goals is essential.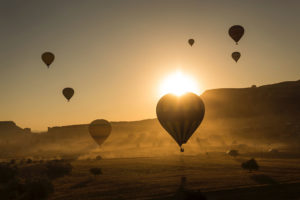 You do not have a consistent and definite set of actions and goals.
You keep repeating the mantra: "I am going to be more confident, calm, etc." and nothing happens? How's that possible? Probably you are aware of the mantra as long as you repeat it, but what happens later? You implement old habits and mental patterns. You need to define a clear set of actionable goals to succeed in this.
For example, if your goal is to be less anxious about your job, you have to be proactive. Every time you notice that your anxiety level rise, you need to bring to your mind that your goal is to reduce stress. Apply it frequently, ideally every time you experience stress. When your anxiety triggers occur, and you notice that you're not as anxious as you were before, it is your little victory! Celebrate!
Confirmed Ways To Make Yourself Happy – recap
In this article, I tried to sum up some common mistakes that we make in our efforts to lead a more positive and happy life. I experienced it myself. Sometimes you need to understand the mistakes you unintentionally make along the way in order to live a happier life. Remember, "Happiness is a state of mind" is a proactive philosophy you need to approach wisely.
These mistakes can often be hidden because many of us don't perceive them as something bad. However, they are, because they make us feel bad and dissatisfied. Therefore, their identification and removal are of high importance.
We hope we identified some core problems regarding your struggle to live a more happy life. Hopefully, you will implement these suggestions. There are numerous ways to make yourself happy. However, the reasons for a low-quality and unhappy life often pertain to negative mental patterns we tried to demystify in this blog post.

Subscribe to get more content like this in your inbox!