Are you sensitive to criticism and unable to express your thoughts freely? Do you always compare yourself with others? Are you anxious in social situations? Luckily, I have created a digital product just for you – printable self esteem workbook PDF files that will help you embrace your strengths and create a firm foundation to boost your self-esteem in the long-term.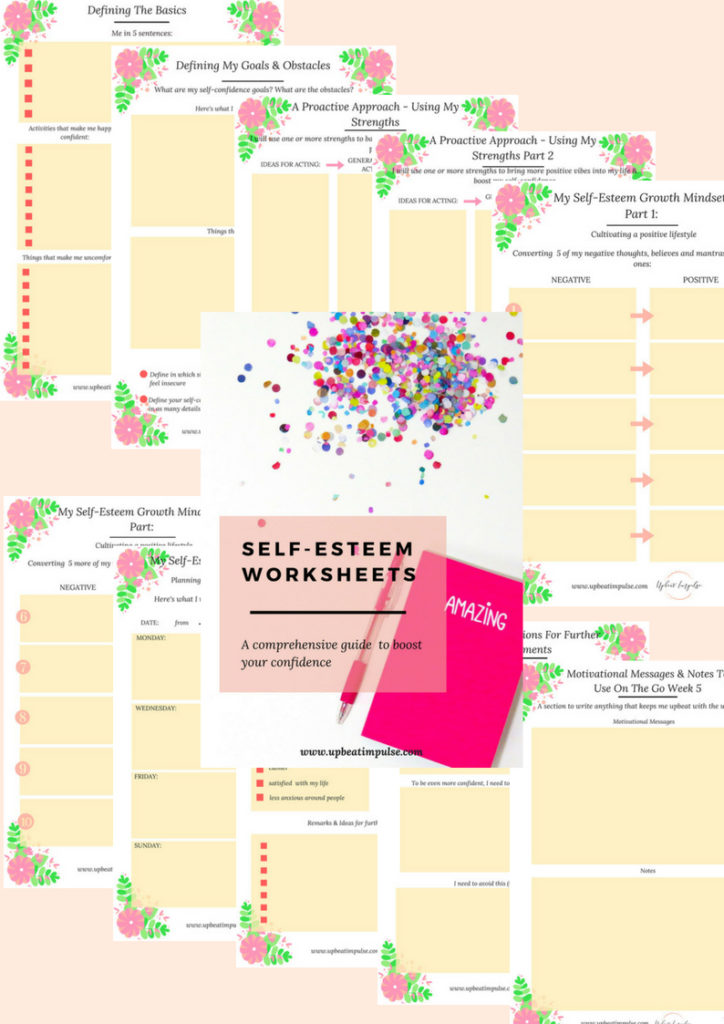 What do you get with Self Esteem Workbook PDF?
The printable Self Esteem Workbook PDF product has 22 worksheets in total:
10 unique worksheets for the first week:
Defining the basics: Defining my strengths, activities that make me happy & things that make me uncomfortable
Defining my goals and obstacles
A proactive approach – Using my strengths to battle my insecurities in a detailed action plan
A proactive approach – Using my strengths to bring more positive vibes into my life and boost my self-confidence
My self-esteem growth mindset: converting 10 negative mantras into positive ones
My self-esteem weekly journal – Planning my self-esteem activities day by day
My self-esteem check-up list: what I've accomplished so far
Notes and suggestions for further improvement
Motivational Messages & Notes you can use on the go
The additional material (repetitive worksheets to fill out week after week to track your progress) :
Week 2nd, 3rd, 4th &5th following up and tracking the progress: Self-esteem weekly journal, Self-esteem check up list, Notes & Motivational Messages
Why is it important to work on your low self-esteem?
Low self-esteem is a common problem nowadays. Many people spend years or even decades in such a state unable to realise and reveal their full potential to others. Therefore, low self-esteem is often the culprit of our wrong life choices. However, there is a whole world of possibilities once you step out of the comfort zone by working on your self-esteem.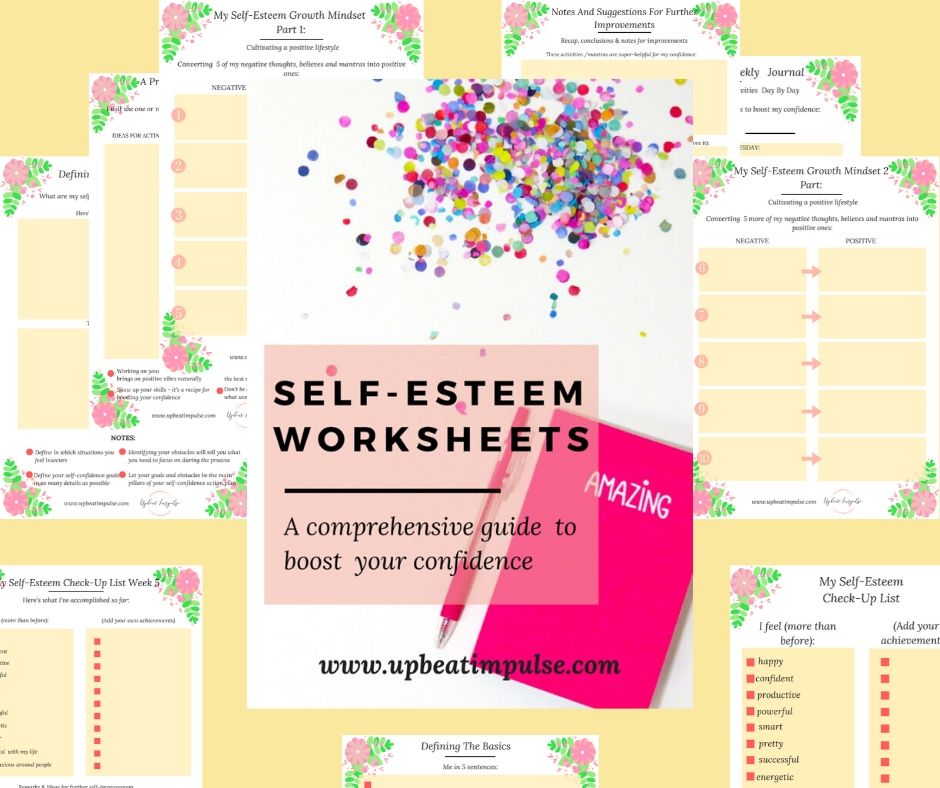 Why should you use this printable self-esteem workbook?
My self esteem workbook PDF is here to prove to you that it's possible to overcome your insecurities by using your own strengths only. The real power lies in you and you just how to reveal it, come up with a realistic and detailed action plan and start making it happen!
This self-esteem PDF guide is designed for both youth and adults! That means that each can benefit from it. The best thing here is that it enables you to make progress from the comfort of your home, at any pace suitable for you.
Moreover, these worksheets in PDF will help you understand yourself better, and identify the major damaging beliefs that hold you back.
At last, these worksheets will help you reveal a plentiful of positive traits you already possess, although you might not be aware of them. The best thing here is that you're going to use your positive traits as an inspiration to develop your positive and proactive mindset.
With the right mindset, self-esteem issues will be fading.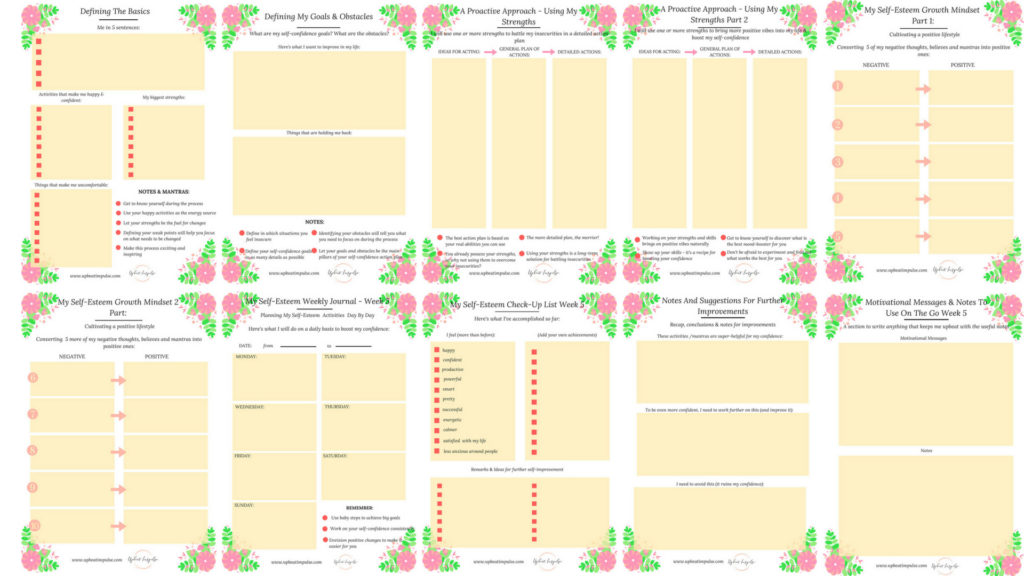 How does my printable self-esteem workbook PDF actually work?
My product is helpful on so many levels:
Focused on identifying and battling the main causes of your low self-confidence
Provides a proactive approach aimed at generating broad ideas about possible changes and writing a detailed action plan
Raising awareness of your positive aspects and using them as an inspiration & source for change
Motivation to further develop your strengths and using them to battle your insecurities
A successive list of our worksheets makes it easier to implement and track your progress
Identify core problems and come to the best solutions yourself with the help of our self esteem workbook pdf
Enables to add notes, motivational messages and detailed weekly plans
10 Comprehensive worksheets for the first week + 12 additional worksheets to track your progress in the following 4 weeks
With this product, gaining self-esteem comes naturally, without questioning yourself endlessly or trying out numerous ineffective approaches.
Purchase it at this low price and start improving your self-confidence today! A comprehensive, customized product for a long-term solution!
Read our blog post about self-esteem and how to use self-esteem worksheets.
Note: Payment is currently available only via PayPal. We know this is inconvenient, and we are doing our best to find a way to include credit card payment processors.

 This product is designed for continuous self-improvement. Therefore, our product helps people easily collect data and insights about one's self-confidence and its progress in time. With our worksheets, you can easily compare and track your data and gain insights whether you're making any progress or not. The additional repetitive sheets (from 10th – 22nd worksheet) are not there just as a placeholder. They are here with a purpose to make it easier for you to track your progress week by week. To do that, you need a reliable follow-up basis which is the same for the entire 5 weeks of work that are covered with our worksheets.

***Notes: This workbook is a digital file in the PDF format, not a physical workbook. Therefore, you need to print it yourself.

*** If you experience any issues during the download, send me a message after your purchase, and I'll send you a product asap via email.

***If you need any help on how to use this product, just contact me on sonja@upbeatimpulse.com. I'll be happy to help.

***If you have any suggestions on how to improve this product, I'm ready to listen.

***I offer customized planners, programs, worksheets, and counseling about self-esteem (See Work With Me page)

Thanks, Sonja