Are you lacking the right strategy and energy to start the change? Has a narcissist consumed all of your energy, deteriorated your mental health and destroyed your self-confidence? Luckily, we have created a digital product just for you – Narcissistic Abuse Recovery Program PDF.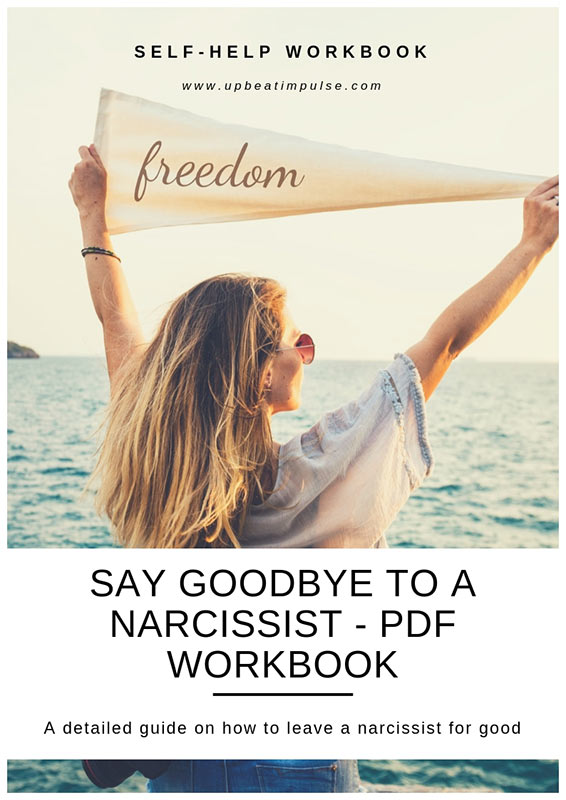 Our product is designed to be a valuable companion of yours in the rough times when you're dealing with a narcissist. The product is created with the main idea to help you in these fields:
keep track of your progress when dealing with a narcissist
facilitate the painful and long process of leaving a narcissist for good
activate and use your forgotten strengths you have and energy the right way
Our Narcissistic Abuse Recovery Program has 8 worksheets in total:
Recognize the signs of a narcissistic influence – revealing the narcissistic signs of a person and your feelings about the person
Mental preparation for change – taking care of all the preconditions needed for leaving the narcissist
Defining a plan of action – a detailed plan with a definite set of actions to take to distance yourselves mentally and physically from a narcissist
Preparing for the narcissist's attacks – since a narcissist won't let go that easily, you need to prepare for his/her mistreatments and assaults
Mantras for persistence – to evoke positive vibes and give you energy and motivation
Healing time – plan for emotional healing and getting back to the regular life
Recap and learn – turning this unpleasant life experience into valuable life lessons to protect yourselves in the future
Final words and useful tips – thoughts and tips to remember during the process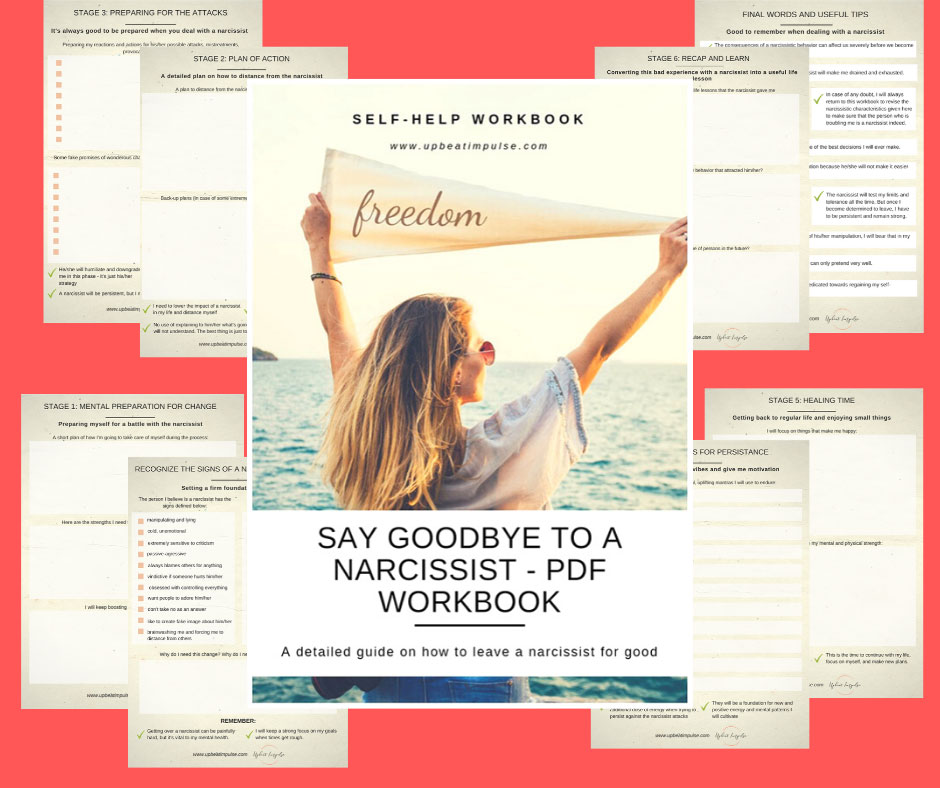 Why is important to leave a narcissist?
Narcissistic personality disorder is a severe mental disorder that unfortunately cannot be treated successfully in certain cases. This type of people cannot change, especially when forcing them. They may promise some miraculous changes overnight, just to keep you around but it doesn't happen that way. They are highly manipulative and therefore, they can make you feel whatever they want to feel if the relationship with a narcissist goes that far.
Therefore, the best decision is to leave. Speaking from the point of view of the author of this product (who was also surrounded with narcissists), leaving them is possible but not easy at all. Therefore, we created this product to make it a lot easier.
How does our Narcissistic Abuse Recovery Program PDF work?
Our product works on many levels:
Since you're in such a delicate situation, without enough energy and resolution, our product is a valuable help and guide through this process.
helps you define and note your thoughts and emotions
helps you regain your self-confidence
helps you develop a detailed action plan you will implement when leaving the narcissist
motivates you to turn this into useful life lessons and to make it easier to spot a narcissist in the future and get away on time
Narcissistic Abuse Recovery Program PDF Wrapping Up
With this product, you get a valuable guide to get over a narcissist, step by step. Get your product at this affordable price and learn how to regain control over your life.
Available in one click only after purchase – it has never been that easy.
Note: Payment is currently available only via PayPal. We know this is inconvenient, and we are doing our best to find a way to include credit card payment processors.

***Notes: If you have any issues in downloading this print, send me a message after the purchase, and I'll send you a copy right away.

***If you need any help regarding the use of this product, just chat me on [email protected] . I'll be glad to help.

***If you have any suggestions on how to make this product better, I'm ready to listen.

***I offer customized planners, programs, worksheets, and counseling narcissistic abuse (More info: Work With Me page)